New research conducted by AHURI, 'The changing geography of homelessness: a spatial analysis from 2001 to 2016' has revealed homelessness is continuing to increase in Australia's major cities.
Almost two thirds of Australians experiencing homelessness are located in the country's capital cities, with this number continuing to grow in size.
Homelessness on a per capita basis still remains highest in very remote areas, yet these figures are becoming more dispersed nationally and growing in larger cities. Specifically, cities with a shortage of affordable private rental housing and higher median rates are seeing homelessness continue to rise. Sydney, Melbourne and Hobart have the most significant rise in homelessness.
AHURI's research indicated overcrowding in major cities is directly correlated with weak labour markets and poorer areas with a higher concentration of males. However, these associations do not apply for overcrowding in remote areas.
The study also found that 63 per cent of homelessness is now based in Australia's capital cities, up from 48 per cent in 2001. While homelessness has been falling in remote and very remote areas, it is still higher in these areas per head of the population.
Shares (%) of homelessness and population by area type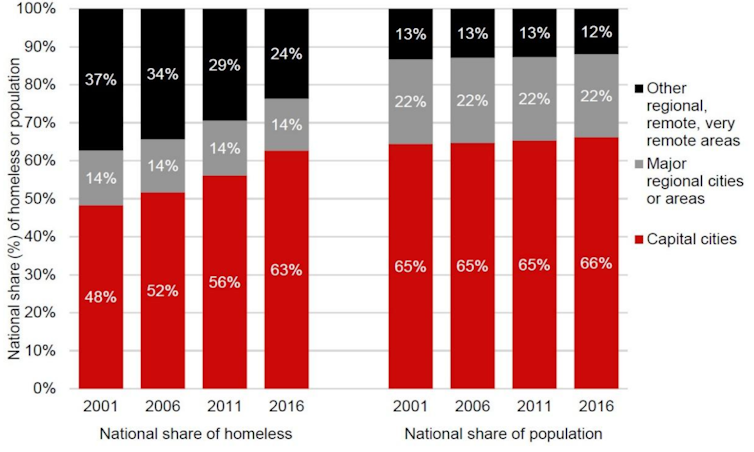 Homelessness is now becoming more dispersed in major cities. There is a decline of homelessness in the CBD and inner areas of Perth, Melbourne, Adelaide and Brisbane, yet rates of homelessness in outer urban areas has increased.
Change in homeless rate compared with population growth 2001–2016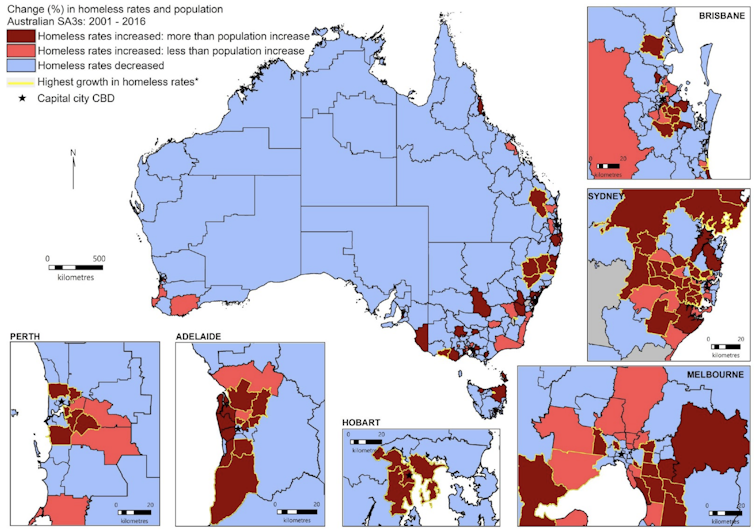 The number of households living in severely overcrowded dwellings has doubled in capital cities over the last 15 years, accounting for much of the increase in homelessness overall.
As homelessness across the country continues to rapidly increase, now is the time for governments to increase the supply and size of affordable rental dwellings. Housing affordability is a crucial issue that needs to be combated so all Australians can have a roof over their heads.
View the Executive Summary of AHURI's report here. 
View AHURI's Full Report here.